adansiweb.xyz
First In News & Awesome In Promotions
Follow adansiweb.xyz on Facebook
Subscribe To adansiweb.xyz TV - & Fully Enjoy Our Updates
Popular Prophet Adom Kyei Dua Finally Tackles Captain Smart Without Fear
Morning Show host for Onua TV Nana Captain Smart is in trouble for attracting the wrath of Prophet Adom Kyei Dua. The man of God took time to Publicise a video which was leaked to him by another person.
According to Adom Kyei Dua, he is making the content of the video public for Captain Smart to know that he has seen and heard all that he ( Captain Smart) said about him.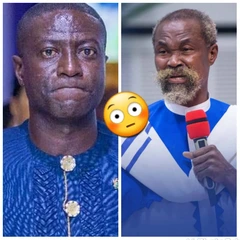 " I was in my room with my wife and children when somebody leaked the video to me. I clicked on it and saw Captain Smart seriously Insulting and denigrating me for nothing." Paul Adom Kyei explained m.
" Little did I know that the volume was high. My wife and children heard everything. I was ashamed. My little children bowed their heads over the video. I had to console them that all that Captain Smart is saying about me is not true " The Prophet Adom Kyei Dua added
" Now listen to me. This should be the last time you talk about me. If you're Captain Smart, you're not smarter than me. If you're called Kwadwo, I was named Kwadwo before you. Be very careful about me. You're warned. You're really warned "
Prophet Adom Kyei Dua got so angry and warned Captain Smart to back off from his personal life.
It's so sad that Captain Smart doesn't respect the Annointing of the man of God. Well, lets see whether he will stop denigrating him or not.
Watch the video below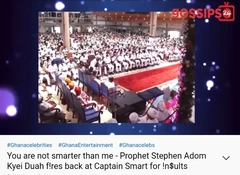 0 COMMENTS
Share adansiweb.xyz To Your Friends
SOCIAL MEDIA HANDLES