adansiweb.xyz
First In News & Awesome In Promotions
Follow adansiweb.xyz on Facebook
Subscribe To adansiweb.xyz TV - & Fully Enjoy Our Updates
Kwesi Nyantakyi Finally Reveals How Kufuor Personally Begged Angry Asamoah Gyan In 2008
2008 African Cup of Nations still rings a bell. Well, you could remember how Asamoah Gyan broke the hearts of many Ghanaians. Little did I realise that the football stars read and listen to whatever Accusations and harsh words we heap on them for losing matches.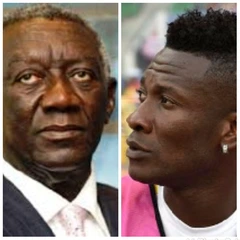 Former President of the Ghana Football Association Kwesi Nyantakyi has finally revealed how Asamoah Gyan once got angry during camping and took his things back home. According to Kwesi Nyantakyi, President John Agyekum Kufuor at that time had to personally beg Asamoah Gyan to go back and play.
Per the narration, had it not been President John Agyekum Kufuor, Asamoah Gyan would have called it quits due to the okro mouth of Ghanaians.
Kwesi Nyantakyi said this in an exclusive interview on Onua TV with Captain Smart while reacting to the final Ghana's African Cup of Nations squad . To him, Ghanaians should pray and support them than threatening them to bring the Cup at all cost or demoralising them.
" Majority of them are young and haven't been to the African Cup of Nations before. Just like when Asamoah Gyan was young and tried packing his things in attempted to quit, these current players are vulnerable. We can only pray for them and encourage them to perform " Kwesi Nyantakyi told Captain Smart in the interview.
You can click on the link below and watch the short excerpt of the interview as explained in this content.
0 COMMENTS
Share adansiweb.xyz To Your Friends
SOCIAL MEDIA HANDLES