adansiweb.xyz
First In News & Awesome In Promotions
Subscribe To adansiweb.xyz TV - & Fully Enjoy Our Updates
Mido clarifies fixed match statements against Etoo and Song at 2004 AFCON
January 17, 2022
• • 617 Views • 0 Reactions
Sports
Ahmed Hossam Mido, the former Zamalek player, revealed that he had received a message from Samuel Eto'o, the former Cameroon national team star, the current president of the Cameroon Football Association, inquiring about the truth of his statements about "missing" the Egypt-Cameroon match, and agreeing on a plot to exclude the Algerian national team from the Cup African Nations 2004.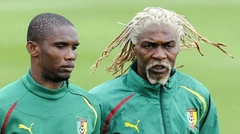 In an exclusive statements to "Al-Watan Sport", he explained to Eto'o the truth of the statements, assuring him that they were interpreted incorrectly, and that he said in his statements with the journalist Ahmed Schubert on the "On Time Sport 1" channel, that the goal was the rise of Egypt and Cameroon together, according to accounts Wrong from the technical staff of the Pharaohs led by Mohsen Saleh.
And the former Zamalek coach and player explained that the conspiracy would have been achieved if one of the two teams had already qualified before the match, which is not true.
[b] Mido reveals the details of his agreement with Etoo[/b]
Mido had mentioned in his interview with SchubertIn the text: "I went in the second half to Samuel Etoo and Rigobert Song, and asked to end the match with a draw without goals. Indeed, the second half did not witness any shot on goal."
He explained: "In the second half, Ahmed Bilal shot towards the Cameroonian goal, so that the opposing team revolted and headed towards me; due to breach of contract."
Cameroon and Algeria qualified from the Group in 2004 whilst Egypt and Zimbabwe were eliminated.
0 COMMENTS