adansiweb.xyz
First In News & Awesome In Promotions
Subscribe To adansiweb.xyz TV - & Fully Enjoy Our Updates
NPP Executives Involved In Fatal Accident - 6 Reported Dead
March 13, 2022
• • 162 Views • 0 Reactions
General
The New Patriotic Party member of Parliament for Hohoe Honorable John Peter Amewu has confirmed the death of six ---executive members of the New Patriotic Party. This include two topmost NPP Executives. Their untimely death was reportedly met on the Hohoe-Jasikan Road during a fatal accident.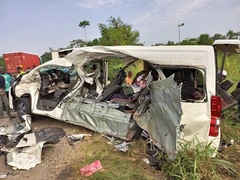 According to the MP, he was told that the victims were returning from a wedding ceremony in Jasikan. The deceased are Makaila Ussif who is the New Patriotic Party polling station ---executive for EP Primary school and Mubarik Mangozy. Unfortunately, the other four other ---executives were not mentioned.
" The details are still sketchy." John Peter Amewu wrote on Facebook to show that, although the accident occurred resulting in the death of 6, he doesn't have the full details of the rest.
He also touched on the officers who survived Ghastly accident.
" It's my prayer that God will grant divine healing to Yussif Abdul Jaburah who is also a polling station ---executive ---executive at CMB shed receiving treatment at the Jasikan District Hospital. " Peter Amewu added.
Check out the post of the MP as shared below.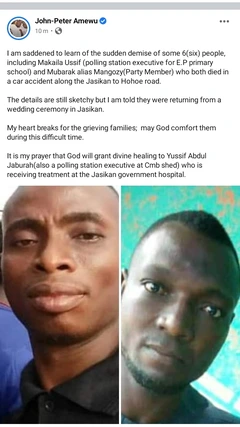 0 COMMENTS