adansiweb.xyz
First In News & Awesome In Promotions
Subscribe To adansiweb.xyz TV - & Fully Enjoy Our Updates
Era Of Nana Ntim Gyakari - A Discovery History Made By Gweede Baakop3
March 17, 2022
• • 181 Views • 0 Reactions
Tradition and History
The 1690s though mark the beginning of the decline of the Denkyira kingdom :firstly , wars on several fronts with Aowin and wasa to its south to control the trade corridor to the coast stretched its gold and manpower resources thin. And then the great Dakabere Boa Amponsem was consumed with hubris. This caused the European Willem Bosman, a merchant in the service of the Dutch West India Company to observe his memoirs: ''Denkyira elevated by its riches and power ,became arrogant that its looked at all other Negroes with contemptible eye, esteeming them to more than slaves ''(reprinted in 1907) .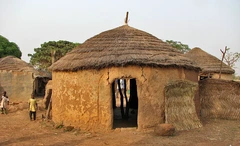 Many of Nana Ntim Gyakari's sub chiefs ,royal servants, and master miners rebelled ,and military commanders including the Strategist Owusu Tia deserted Abankesieso (Capital of Denkyira) abandoned him to seek refuge in neighboring courts ,particularly Kwaaman, Akyem kotoku and Wasa.
By 1699 , the capricious Denkyirahene was left all by his lonesome self and vulnerable . Under constant pressure from Kwaaman coalition ,Gyakari was captured on Friday at Feyiase ,bringing the great Agona kingdom of Denkyira ,the first of the Akan to rise to a state ,to a vassal status .
As a result of mass rebellions and numerous desertions ,and due to the annexation by the Asante ,the Denkyiras got scattered all over present day Ghana and La Cote d' Ivoire in the 1700s. They were flung as far as Chereponi in the North, Wli to the East ,Vume, Mafi Kumasi, Asato, Berekum, Sunyani ODumasi , Fiapre, Agona Nyaakrom, Agona kwayanko, Agona Swedru, among the Wasa and all the way to Enwi to the west ,the names continues .
0 COMMENTS